NASA and spiritual energy – a brief Q&A with Shiva Feshareki
Photo: Kamila Koziol
Shiva Feshareki is a British-Iranian composer, artist and turntablist. Known for her multi-disciplinary approach to composition, Shiva burst onto the scene back in 2004 when she won the BBC Proms/Guardian Young Composer of the Year award at the age of 17. Fast-forward 17 years, and Shiva has worked with everyone from grime sensation Stormzy to doom metal gods Sun O))) and a whole bunch of top orchestras in between.
We recorded Shiva's stunning piece VENUS/ZOHREH earlier this year at the Stoller Hall, and Shiva was kind enough to answer a few short questions in this brief Q&A to learn more about what makes her tick.
Manchester Camerata: Hi Shiva, thanks for taking the time out to talk to us! Bit of an obvious question to start with, but how did you first get into music?
Shiva Feshareki: Maybe not so obvious after all: I have vivid memories of seeing Vanessa Mae perform on Blue Peter, and that making me desperately want to learn the violin! Fasten your seat belt…(if you know, you know)
MC: We played your fantastic piece VENUS/ZOHREH, which I believe you wrote back in 2018. Can you tell me how the work came about and the idea behind it?
SF: Ah thank you; it is a truly wonderful performance :).. VENUS/ZOHREH has two sides, or two energies. VENUS is the scientific energy: I developed it whilst learning about the planet Venus from the Venus expert Dr Philippa Mason who is currently working on a NASA Venus project! This element focus is on the physicality of the sound and the actual physics of the sound, the bow gliding on the vibrating strings, and the essential resonance. But then the spiritual energy is ZOHREH and that is inspired from my mother Zohreh which in the Persian language means Venus. This side of the piece focuses on the individual journey each string player embarks upon: A sonic meditation of their own sound and how these separate journeys interact in the moment within the ensemble and the space, like a sort of therapy. When these two energies combine, you get VENUS/ZOHREH.
I composed it in one afternoon sitting on the grass in Clapham Common, and it has become my most performed piece, and I would say one of my most significant works to date!
MC: A lot of your work seems to involve working cross-artform from orchestral to electronic to choral etc. Do you find yourself having preferences to working in one art form over the other?
SF: I love the perspective that constantly broadening my artistic horizons affords, and how all these components inform each other. Even VENUS/ZOHREH itself is totally informed by how I create electronic music and so my approach to string composition has a different perspective.
My artistic practice is extremely wide-ranging but deeply interconnected. For example, I take recordings of my previous acoustic compositions, and use them as the samples for electronic manipulation in my next compositions. That way my music is always evolving through time and nestled within each other in a constant state of flux. Or as my friend Kit Downes puts it: I intricately craft and score the acoustic elements of my music with such care and precision, only to defile them in performance with a turntable free improv… and invite Kit to join me on the rampage!
MC: Amazing! Any rampages planned for the not so distant future?
SF: I am just about to go on tour with the Netherlands Chamber Choir with a new composition for Turntables and Choir (my 3rd this year!) – I have been writing a lot of music for Turntables/Electronics and Choir recently as I love the interaction.
MC: Finally, what are you listening to at the moment?
SF: Tchaikovsky, James Tenney, Googoosh.
Thanks so much, Shiva!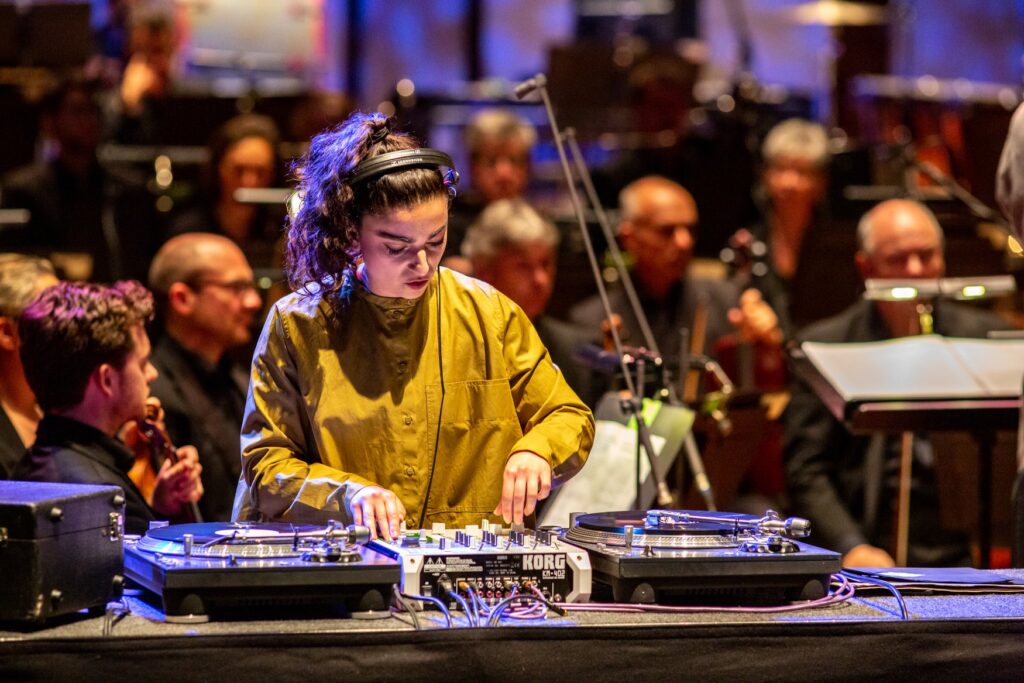 To keep up to date with Shiva, please keep an eye on her website or, you can follow her on Instagram here.
Support Us.
Donate now.