Professional Experience Scheme
Our Professional Experience Scheme (PES), in collaboration with The Royal Northern College of Music, has been a successful project for many years and aims to provide the best possible preparation for students to pursue a career as an orchestral musician or within the Arts.
Our scheme is open to third and fourth-year undergraduates and all postgraduate string students enrolled at the Royal Northern College of Music. Through an audition process, we recruit up to two violins, one viola, one cello and one double bass to take part in various activity throughout our season of work.
Our vision is to create a pathway for students at the Royal Northern College of Music that will see them experiencing our organisation as a whole, from performing diverse repertoire on the platform, experiencing some of the many projects our community work provides and understanding the challenges we face within the sector.
Approximately 80% of the current membership of Manchester Camerata studied at the Royal Northern College of Music and our Profession Experience Scheme has helped launch the careers of more than 60 young musicians studying at the same institution.
Scroll down to meet our current PES students plus hear from some of the alumni from the project.
We welcome the following students to join us for our 23/24 season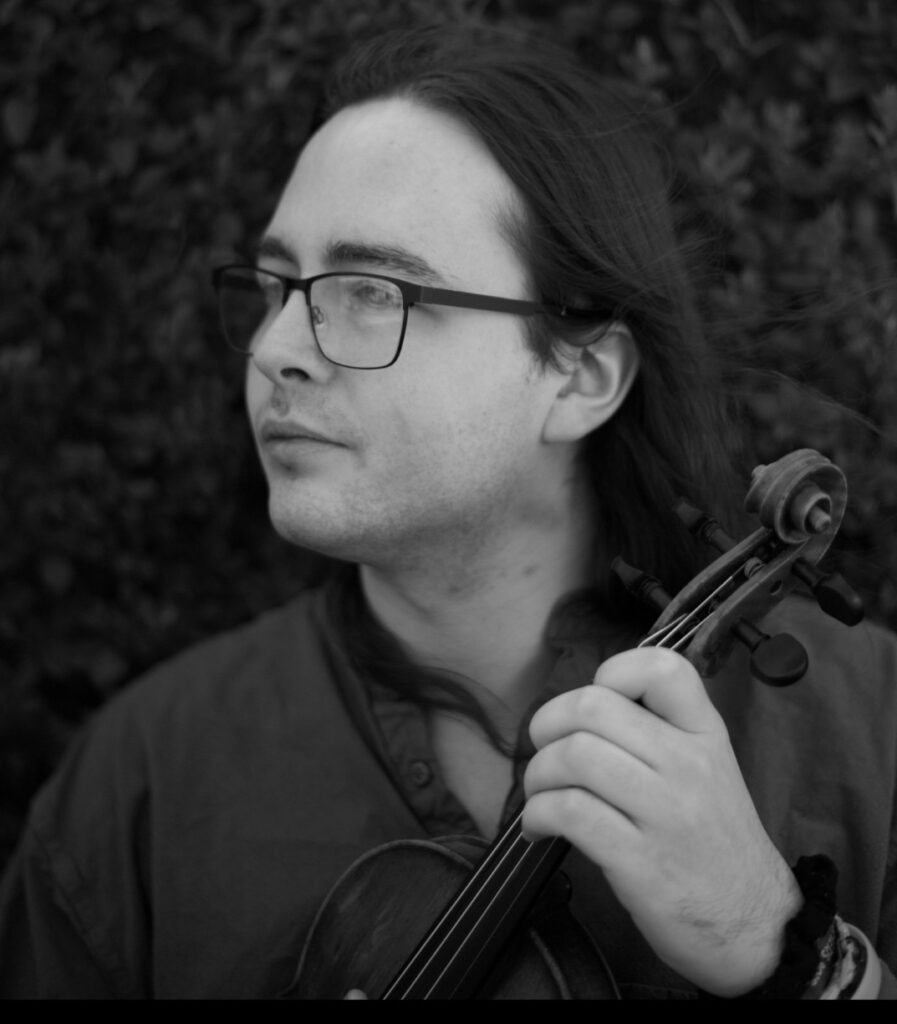 Dylan Latham – Violin
Dylan Latham is from Norwich and currently undertaking his postgraduate studies at the Royal Northern College of Music. He began playing at the age of 3 with Rosie Toll through the Suzuki Method, before studying with Alda Dizdari at the Junior Guildhall School of Music and Drama from 2012 to 2016. In 2014 Dylan played solo to a televised 2 million and a full concert hall in Albania, and in 2016 he participated in a summer masterclass in Romania with Sherban Lupu.
From 2016 he studied at the Purcell School of Music, before starting an undergraduate degree in 2018 at the Royal Northern College of Music under the tutelage of Jim Clark, and later Sebastian Mueller. He now also studies with Cecily Ward. In his time at the RNCM Dylan has had several masterclasses from international soloists and chamber musicians including James Ehnes and Ning Feng, and has led multiple orchestral projects including the Manchester premier of Bernstein's Mass in March 2023, the biggest college project to date.
In winter 2023 he won the RNCM concerto competition, and in summer 2023 he won the Lunigiana International Music Festival concerto competition with a prize of a prestigious concert in New York. He has attended numerous external masterclasses and worked closely with Ofer Falk, Miclen LaiPang, and the Chillingirian quartet.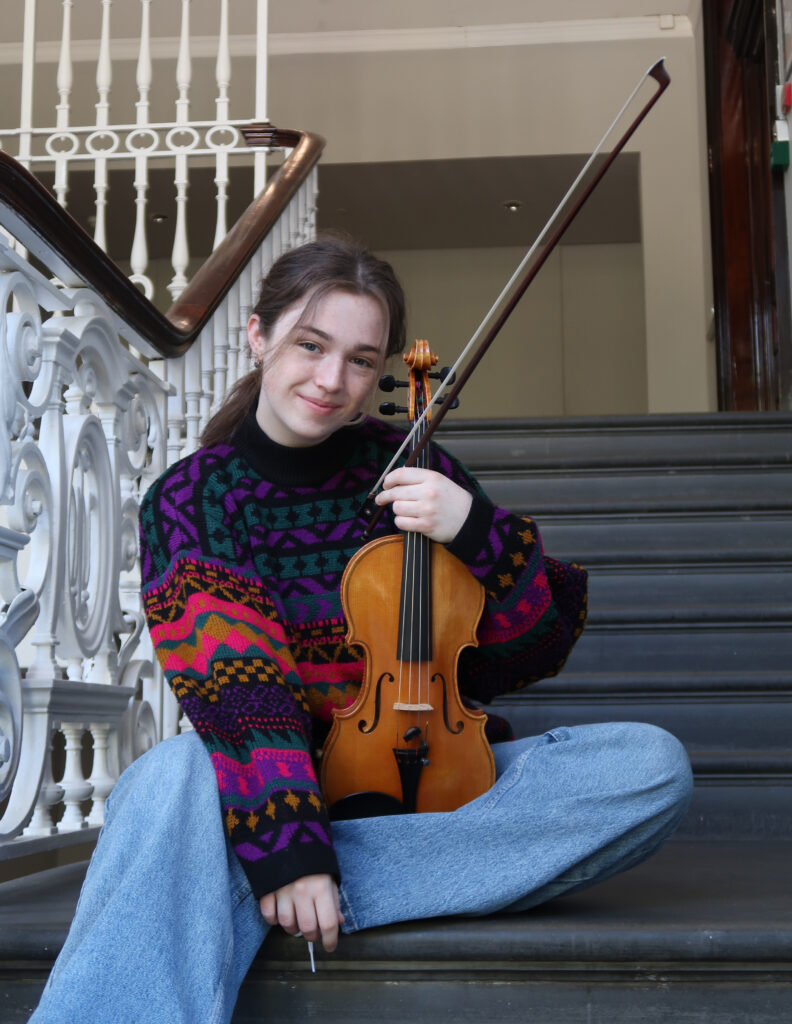 Georgina Bloomfield – Violin
Georgina Bloomfield is a violinist from the Peak District, currently going into her third year studying at the Royal Northern College of Music with Catherine Yates. Growing up she enjoyed many thrilling and varied musical experiences, including playing at the Proms with the National Youth Orchestra of Great Britain and performing the Lark Ascending with Liverpool Sinfonia in Chester Cathedral last year. Georgie was also a member of the National Children's Orchestra and the Junior department at RNCM, which she absolutely loved. She is the violinist in the Silja Piano Trio, which is currently exploring performing a wide and vibrant range of music from Shostakovich to Clara Schumann. This year, Georgie is extremely excited to work alongside and learn from members of Manchester Camerata as part of their professional experience scheme.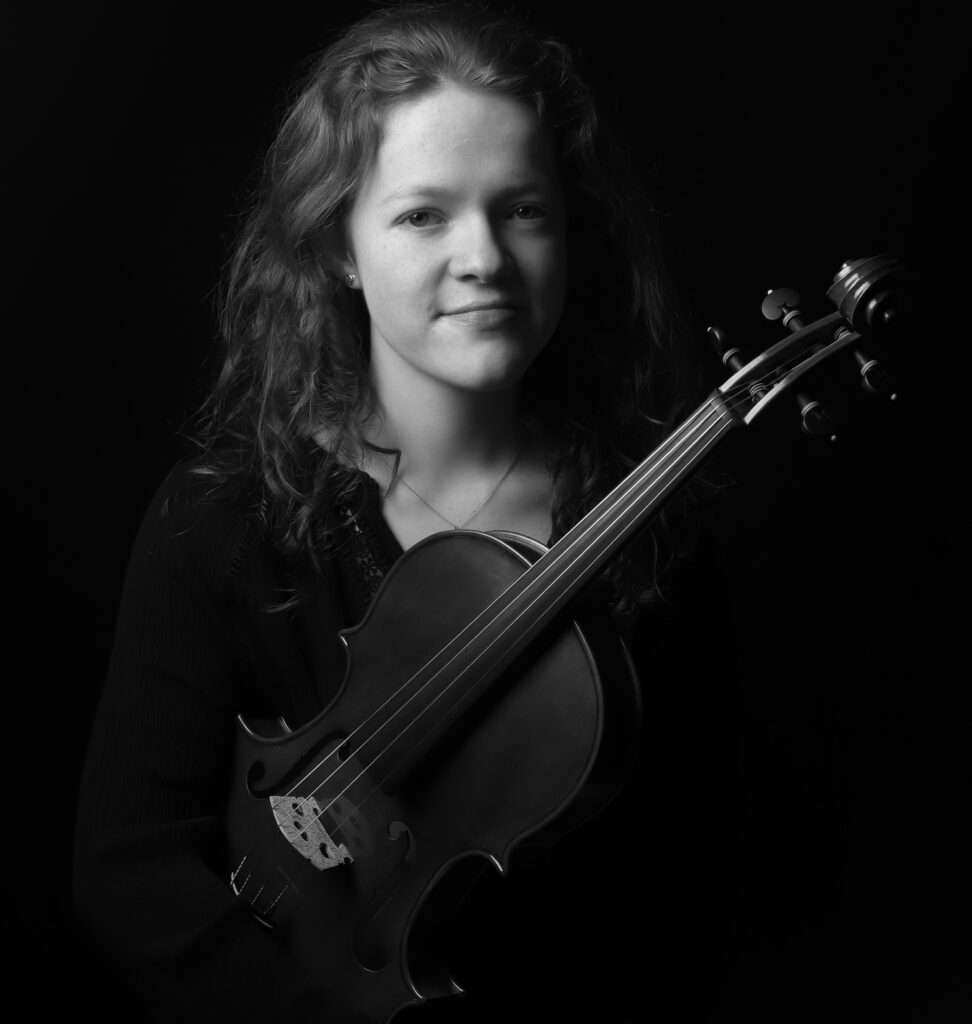 Hannah Borlase – Viola
Hannah is currently in her first year of a postgraduate at the RNCM having studied both there and at the University of Manchester for her joint undergraduate. She was awarded the Procter-Gregg Prize for Performance for her third-year recital, the Hargreaves Prize for Dissertation, and the Hargreaves Prize for Academic Excellence from the University of Manchester. Hannah values making music for and with people and was chosen to take part in Jessie's Fund's Creative Musicians Residency and the Benedetti Foundation's Ambassador Scheme. She was also able to perform Walton's Viola Concerto with both the City of Carlisle Orchestra and Halifax Symphony Orchestra during her fourth year. This academic year she is excited to be teaching with Trafford Music Service and is looking forward to continuing playing in her string quartet and start a new trio with piano and flute!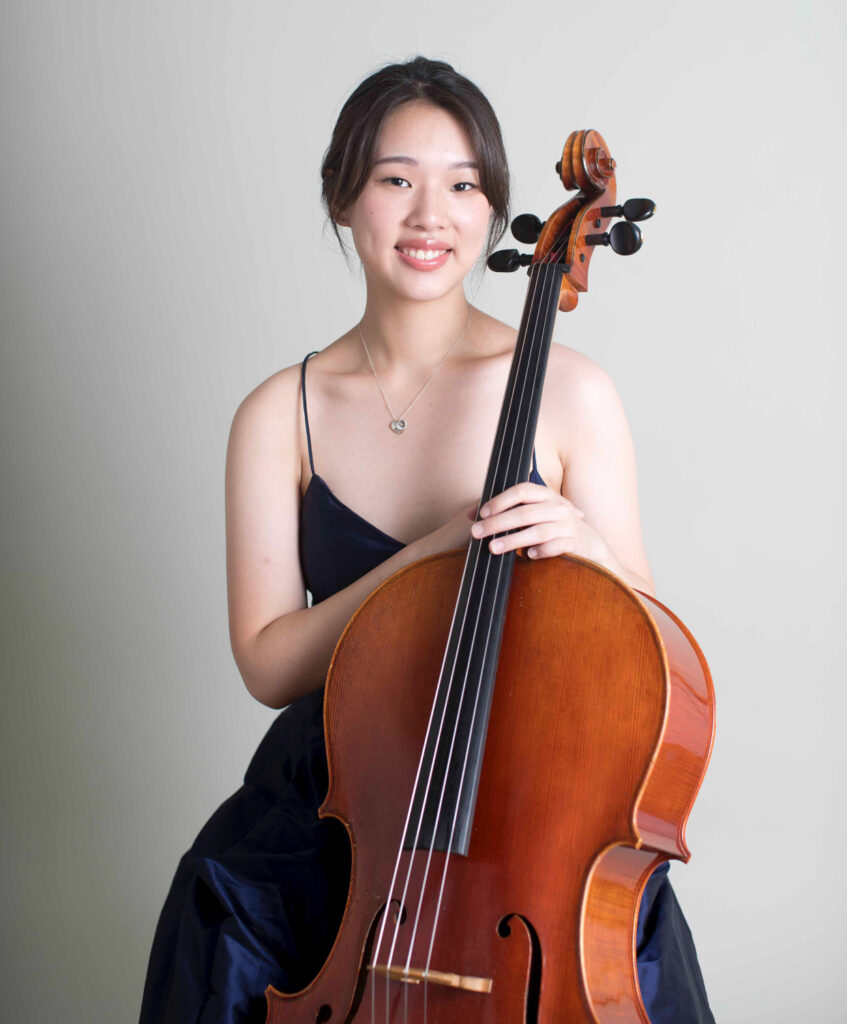 Andrea Kim – Cello
Andrea is currently in her 2nd year of postgraduate study at the RNCM. During the 2022-2023 year, Andrea was a finalist in the RNCM Concerto Competition and her two chamber groups, Trio Cosmo and Nabi Quartet, has each won a chamber prize – the Nossek and Weil Prizes, and both competed in the Christopher Rowland Chamber Ensemble of the Year Prize. Andrea has been given many opportunities to work with various notable musicians and composers including Sir Mark Elder with the RNCM Symphony Orchestra, Sally Beamish, Anna Clyne, and most recently, Cassandra Miller for her piece 'Warblework' for string quartet. Andrea has graduated with her bachelor's degree in Classical Cello Performance at the Manhattan School of Music. From the fall of 2022, she continues her studies at the RNCM, studying with Hannah Roberts.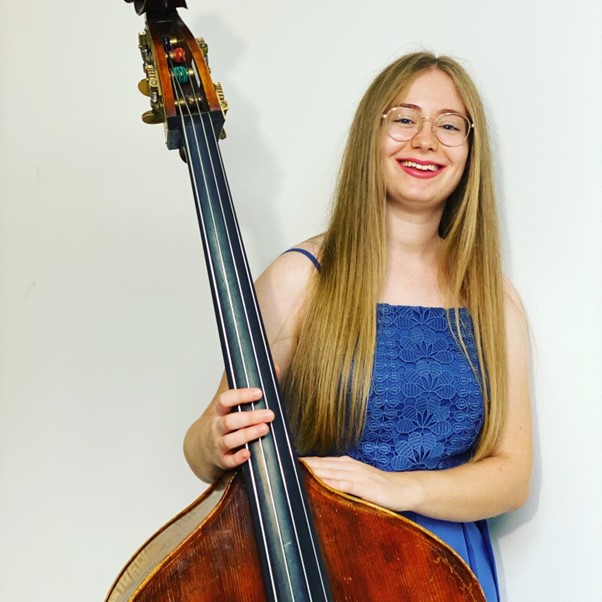 Sara Banks – Double Bass
Sara is a double bassist in her final year of undergraduate study at the Royal Northern College of Music with Rachel Meerloo. She has participated in several masterclasses with renowned professionals, such as Božo Paradžik, Burak Marlali, Billy Cole, and Théotime Voisin.
Former principal of both the Northamptonshire County Youth Orchestra and the CBSO Youth Orchestra she has a wealth of orchestral experience and has performed at many notable venues across the country, including the Royal Albert Hall, Symphony Hall, the Butterworth Hall, and the Bridgewater Hall.
Sara's interest in orchestral management has seen her complete a placement at the RNCM with the Orchestras and Ensembles team, as well as work as a Hesse Student at the Aldeburgh Festival in 2022.
Having grown up without any female bassists as role models, Sara is passionate about teaching and inspiring the next generation. She is a Senior Student Mentor for the RNCM Young Basses programme which consists of workshops for school-aged double bassists. During these workshops she has designed and lead a variety of sessions as well as coaching and mentoring students before exams.
On graduating from the RNCM, Sara hopes to study in Germany.
PES Alumni
Caroline Pether – Manchester Camerata Leader
When studying at music college we are analysing our playing in lots of detail and taking time to learn new techniques to ensure their full integration. These are positive and essential aspects of learning that help us to improve, but it can be quite a shock when we realise we do not have that kind of time once we are out of college and gigging professionally.
The PES scheme provides that crucial stepping stone from studying at music college to life in the profession. There is no substitute for being in amongst professionals and having to keep up. One of the things that is hard to replicate in the music college environment is the extremely fast pace of rehearsals and regularity of concerts. It is the kind of lesson that can only be learnt by doing.
The thing that I appreciated particularly about the Camerata PES was that it really felt like a safe space to experience this faster pace. As long as I came well prepared to the first rehearsal, I never felt disapproved of for the odd small mistake. Gábor Takács-Nagy created an environment of musical freedom, prioritising extremes of expression over perfection. And this philosophy didn't stop with Gábor, the musicians embodied it also. Violinist Rebecca Thompson was my scheme mentor and she encouraged me to use more bow which helped me to contribute more to the section sound rather than hide behind it.
The PES is special to me because it introduced me to this wonderful orchestra's musicians and management team, whose musical priorities are so closely aligned to my own. That first opportunity allowed me to recognise that I was amongst like-minded people and sparked a passion in me for this orchestra, setting me on a path to where I am today. I did the Camerata PES from 2011-2012, in 2013 I became a violin member, in 2016 I became one of three Co-Leaders, and in 2020 I became the Leader of the orchestra.
The last thing I'll say about the PES is that I think it reminds students that ultimately the end goal of all our study/rehearsal is to perform for audiences and to make them feel something. After one or two days of rehearsals, the audience are there, ready to listen, eager to hear. When we are in the thick of studying, we can become so focused on the minutiae, that we forget to think about the bigger picture. Practising all of the technical aspects of playing is so important, but only with the goal to express more freely. Experiencing the excitement of concerts from within the orchestra for the first time, and hearing the appreciative applause from the audience, certainly reminded me of that 10 years ago.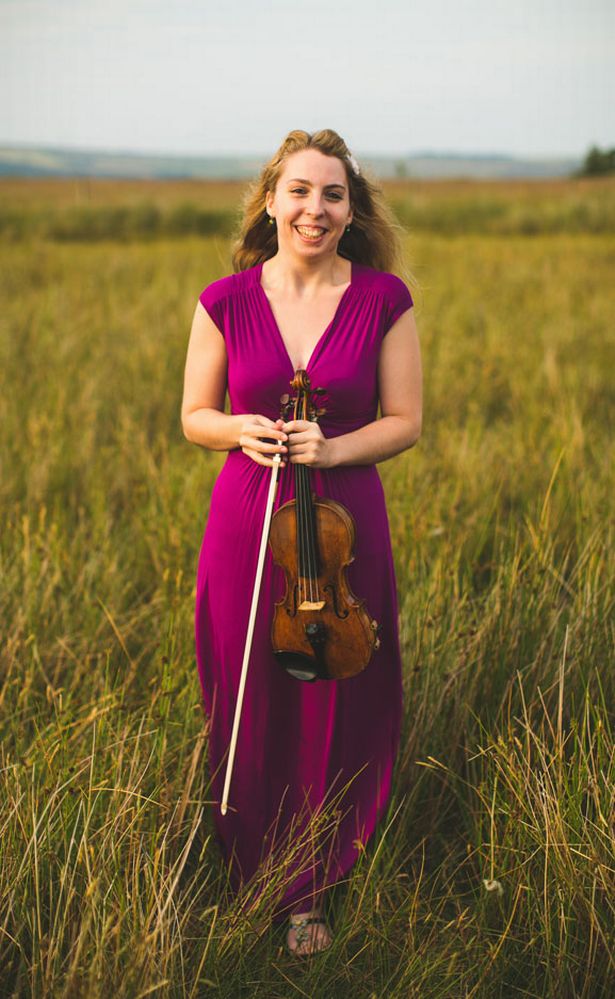 Gemma Bass – Manchester Camerata Violin Member
The Camerata PES was the first time I had the opportunity to play with a professional chamber orchestra and, as rich and full as my college education was, nothing had really prepared me for that! It was incredibly valuable to have this experience whilst still studying and I learned a lot very very quickly!
I remember having a meeting with Rebecca Thompson, who was my mentor on the scheme. She had some advice and feedback which was really helpful. Her big tip that day was to prepare the music with the kind of energy and gusto you are going to need in a performance – great advice!
I was already very fond of the Camerata before the scheme, having seen concerts at the Bridgewater Hall, but I was blown away when I got the chance to sit in and be part of that sound. I fell completely in love with the orchestra and with the Chamber Orchestra generally as a genre – amazing repertoire and a wonderful balance of ensemble and soloistic playing. I was chuffed to bits when the job came up the following year and I managed to get a trial. It was a lengthy and nervy process (2 1/2 years!), but I am so proud to be part of the Camerata and still find every project a real thrill, 10 years on.
I would recommend the professional experience schemes to anyone. They are so incredibly valuable as a way of gaining real life experience in a real-life orchestra. Sitting and playing alongside established professionals, learning from them on and off the platform, there is really nothing else that can prepare you in the same way.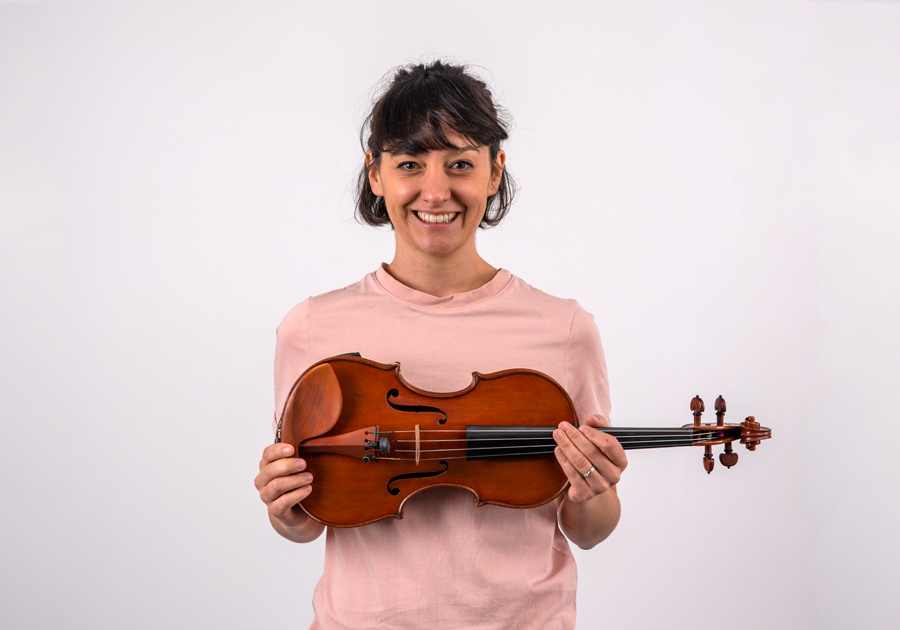 Alex Mitchell – Manchester Camerata Principal Viola
The Camerata PES was a very important part of my student years, as it gave me a taste of what it was like working with an orchestra and let me meet people who had been working for a long time. I also got to work with amazing directors like Gábor Takács-Nagy and Giovanni Guzzo, who were incredibly inspiring to be able to play with. These are some of many reasons why schemes like this are really important for students, and I would whole heartedly recommend applying!